Department of Culture, Media and Management
The Department of Culture, Media and Management is unique due to its interdisciplinary model of studying. At the undergraduate level, there is the study of Culture, Media and Management while at the graduate level, there are two study programmes: Management in Culture and Creative Industries and Media and Public Relations. This department used to run, on both the undergraduate and graduate levels, the study programme Cultural Studies (modules: Media Culture, Cultural Management and Library Studies).
Besides their interdisciplinary nature, the study programmes at the Department of Culture, Media and Management enable the use of analytical discourses in practice. We promote innovative models of learning which question theoretical sources during the practical part of the teaching process. The teaching process is carried out in cooperation with different cultural institutions and professionals and it takes place outside the official premises so that students, being in the direct contact with different activities in creative industries and public relations, could develop the competence and skills that are demanded by the contemporary labour market.
/ Department's notice board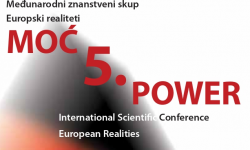 Hrvatski / Croatian Academy of Arts and Culture in Osijek is organizing 5th International Scientific Conference – European Realities /POWER/ (Osijek, 25th March 2022) Co-organizer…